1. Whether there is looseness when the injection Mold spare parts guide rod and bushing are matched with the template (large fit tolerance)
2. Whether the injection Mold spare parts guide rod and bushing are strained and rusted
The guide rod mainly plays a guiding role in the mold to ensure that the molding surfaces of the core and the cavity do not touch each other under any circumstances, and the guide rod cannot be used as a force-bearing part or a positioning part.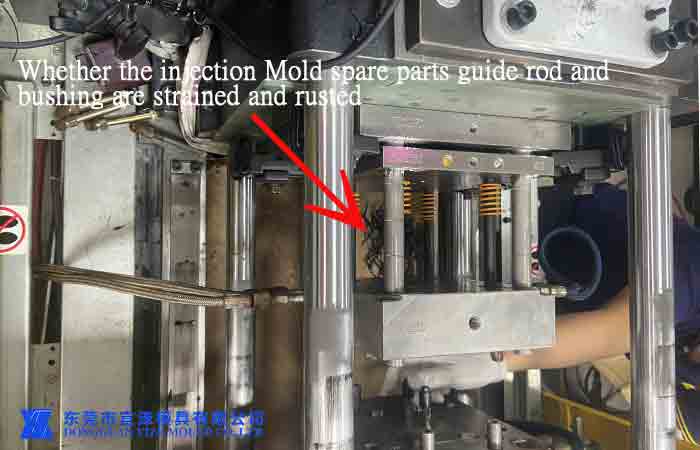 In the following cases, when the injection is moved, the fixed mold will generate a huge lateral deflection force:
1) When the wall thickness of the plastic injection molding parts is not uniform, the flow rate of the material passing through the thick wall is large, and a large pressure is generated here;
2) The sides of the plastic injection molding parts are asymmetrical, such as the back pressure on the opposite sides of the mold with the stepped parting surface is not equal.
3. Is the injection Mold spare parts guide bushing exhausted?
1) According to the shape and size of the mold, a pair of molds generally needs 2-4 guide posts. If the punch and die of the mold have orientation requirements, use two guide posts with different diameters, or use two guide posts with the same diameter but staggered positions.
2) Since the plastic parts are usually kept in the male mold, the guide posts are usually installed in the female mold for the convenience of de molding.
injection Mold spare parts guide rod and bushing should have chip grooves at the parting surface.
3) The axes of the guide post, guide sleeve and guide hole should be parallel.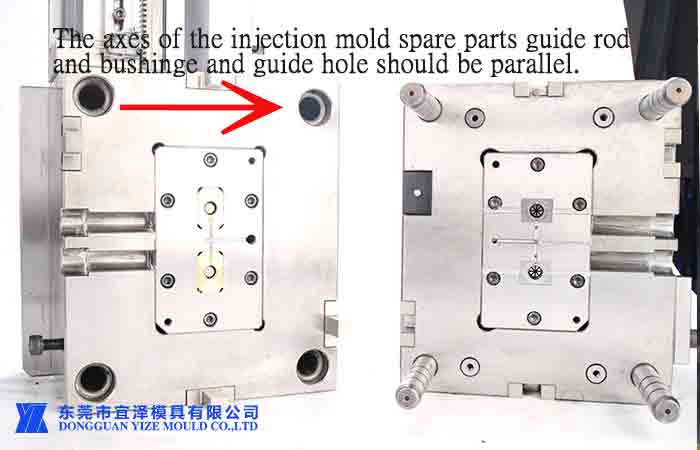 4) When clamping the mold, it should be ensured that the guide parts are in contact first, so as to avoid the male mold entering the mold cavity first and damaging the molded parts.
4. Is there an offset or a different diameter for one of the guide posts?
A high-strength positioning key is added on each of the four sides of the mold parting surface, but the most concise and useful is to choose a cylindrical key. The straightness of the guide hole and the parting surface is the most important. After the movable and fixed molds are aligned and clamped during processing, the one-time boring machine can ensure the concentricity of the movable and fixed mold holes and minimize the error of straightness. In addition, the heat treatment hardness of the guide post and guide bush needs to be requested after reaching the plan.