The twelfth Injection Mold spare parts employee meeting of Yize Mould
The twelfth full-staff meeting of Yize Mould in 2021 was successfully held in the company training room at 7:55 in the morning on December 2, 2021. This all-hands meeting was presided over by Manager Liu of the Production Department. Under the guidance of Manager Liu, all the staff kicked off the conference by singing "Singing the Motherland", recitation "Six Diligence", "Twelve Management Principles" and "Yize Vision, Mission, Values, Social Training, and Quality Policy" .
"Agenda 1: November Performance Report and December Injection Mold spare parts employee meeting Performance Target"
Manager Liu of the Production Department reported the company's performance in November 2021 at the meeting and determined the company's performance target for December 2021. In November 2021, due to market turbulence, the company failed to complete the November business target as planned. The performance in December 2021 hopes to exceed 3.6 million yuan with the concerted efforts of all employees to achieve the annual performance target. Manager Liu encourages all employees to show their enthusiasm and draw a perfect end to the 2021 annual performance target.
"Agenda 2: Injection Mold spare parts employee meeting 5S" winning team recognition"
The company's transformation and performance growth have attracted a large number of talents to join. After more than a month of familiarity and understanding, the new colleagues who joined the company in October have been integrated into the big family of Yize and turned into formal employees of Yize. All members extended their welcome and congratulations to the regular employees with the warmest applause. Mr. Yang, the deputy general manager of the company, presented souvenirs to colleagues who became regular in November.
In the workshop "5S" appraisal, the CNC department was awarded the mobile red flag of "5S Excellent Team" because of its excellent overall sanitation and clean-up, setting a 5S benchmark for other departments.
Regarding the provisions on maternity insurance in social insurance, Mr. Yang also popularized the reimbursement ratio and reimbursement process of maternity insurance with all employees at the meeting, hoping to protect the basic welfare of employees.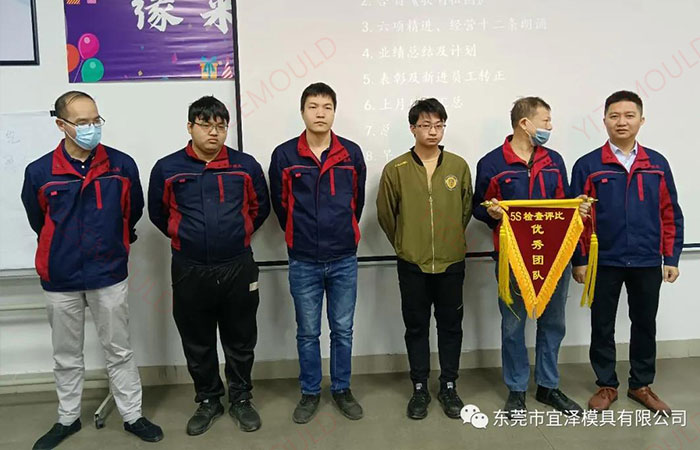 "Agenda 6: General Manager's Summary"
The general manager of the company, Mr. Wang, summarized the company's overall operations in November at the meeting and affirmed everyone's efforts. At the same time, he also expressed the hope that all Yize employees can work hard to improve their skills, and be proactive, prioritizing important things, Start with the end. The twelfth full meeting in 2021 ended with enthusiastic applause.